| | | | | |
| --- | --- | --- | --- | --- |
| [ | mood | | | okay | ] |
Hello! My name's Tamara. I'm fourteen. I live in Georgia.

And, oh, Georgia. This place is painful. I'm surrounded by homophobes, people who never seem to have much logic in their opinions when it comes to the government ("I'm glad Bush won because OHMIGOSHERS Kerry wanted to take away guns and we can't let gays marry because they're going to hell anyway!"), and the kind of pushy-speechy Christians that drive me batso. I don't have any problem with Christianity. In fact, I think it's a pretty great if it's more focused on love and acceptance than sin and punishment. The problem occurs when you have as high a number of hypocrites as we do down here. It produces teenagers who are the perfect Christian daughters and sons, especially when they go to school and talk about how they're going to "kill all the fags" and label me a Satan-worshipper the second I'm not praising our "good, God-loving" president. So no, I don't have a problem with Christianity--a lot of Christians aren't even like that. I have a problem with extreme hypocrites (everyone is a little hypocritical), homophobes, and small-minded people in general. Those can be found anywhere.

Since there have been some obvious tones sent out already, I should say I'm a GLBT rights supporter. Francesca states it perfectly--any love that is love is right. The view around here is, of course, anti-gay marriage. Okay. If you consider it against your religion, two things. One, not everyone's a Christian and you can't mix religion with state. Two, you aren't the one doing it so it isn't your choice. If people can't get married, they're still going to live together and sleep together and love each other. It's just that the rest of the world can pretend they won't, or that they're doing something wrong by doing it.

Also, I'm pro-choice. A bit hesitantly. I've always believed that if your baby comes from rape, or if it would have something horribly wrong with it if it were born, or if you're very young, or if your health would be put in jeopardy by the birth, you should definately have the choice of an abortion. But then, what if you just don't want the baby? Okay, you could give it up for adoption, but you still have to go through all the pain of carrying and giving birth to it. And maybe, yeah, you were being reckless and didn't use protection. Or maybe something else happened and even with precautions, you became pregnant. Should you still have that choice? I have to say yes. Although I don't believe abortion should be used as birth control by any stretch of the imagination, it is your body and it's your choice. Personally, I don't think I could do it. In my mind, that's not just a little blob floating around in there; it's a baby. And I don't think I could take away its chance at life. The only thing that makes me pause is the fact that, if I put a baby up for adoption, who knows what kind of people are going to get it and what it could go through? I'd take that chance because I think that life with all its problems is still worth it, but the the whole thing is a very iffy subject for me.

I'm sure I've babbled quite enough by now, so I'll try to keep this part short. Myself.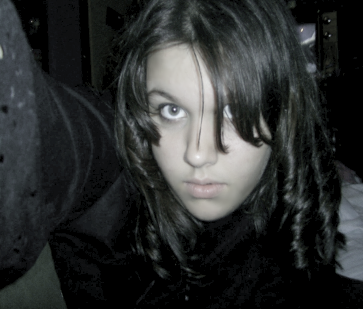 My name, as I've mentioned, is Tamara. I love to write, draw, and sing. I pick at the piano and guitar. I have a unique sense of fashion that I'm still a little too shy to fully bring to light. I want to learn to cook and sew and garden. I want to get out of Georgia. I want a job that makes me happy. If I marry, I want to marry someone I really love and someone who loves me. My music includes singers like Tori Amos, Ani DiFranco, Natalie Merchant, Alanis Morisette, James Blunt and Jack Johnson. My authors of choice are Francesca Lia Block and Dean Koontz. I love colors too much to have a favorite.

I'm not a Barbie.

Nice to meet you.